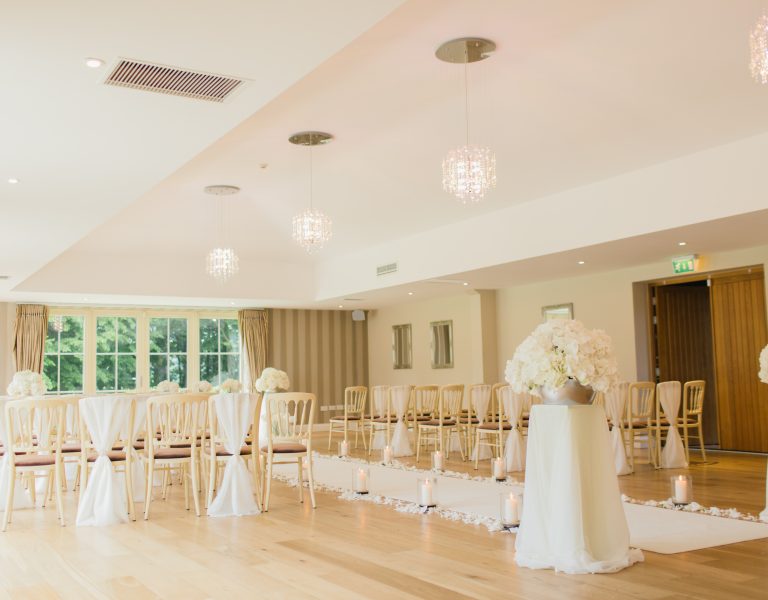 Help choosing a wedding venue
10 tips on choosing your venue
So much hangs on your choice of wedding venue, it's really important to make sure you get
it right. Choosing your venue will be one of the earliest decisions you'll make and will have a
bearing on virtually everything else – you even need to have your venue booked before you
can book your registrar.
Problem is, there are so many to choose from. And it's really easy to see somewhere, fall in
love with it, and then find as time goes on that it's not quite right for what you need. After all,
the venue you pick will determine not only the number of guests you can invite, but also the
style of your wedding, the suppliers you use and how much of your budget is left for other
elements of your wedding – so it's worth thinking carefully about it rather than just going for
the first place you like the look of.
Booking your venue is a big commitment, so think of it rather like you would if you're buying
a house; location and the space it provides are important of course, but there are many other
questions you need to ask yourselves before you can decide whether it's exactly what you're
looking for.
Staffordshire has a great many venues to choose from, and is rightly a very popular
destination for anybody looking to get married in idyllic rural surroundings. In fact, on
average we hold over
3000
weddings every year – which means our experts know a thing or
two about making sure everything goes smoothly.
So whether you've already got your dream venue in mind or have seen so many you've
gone 'venue-blind', we've put together a list of the key points you need to think about when
looking for the best venue for you and your partner to help you narrow down your search.
1. What kind of wedding will it be?
Let's start with the most fundamental question: are you planning a civil ceremony in a
registration office, county building or an approved venue? Do you want to have your
reception at the same venue or choose a different place?
2. How many are you planning to invite?
Whether you're planning daytime and
evening celebrations or a simple gathering, you'll need to make sure your venue will
comfortably hold the number of people you expect to be there.
3. Think about the location.
This isn't just a case of the venue being in pleasant
surroundings – you'll need it to be convenient for you and your guests to get to, and if
many of them are travelling some distance, you'll need to about transport links and hotels nearby. Some venues have accommodation available.
4. What's the

style/

theme for your wedding?
You might want to choose a venue
that
compliments that
. Your choice of
venue
can also influence things like your dress, the
decor/styling and even the entertainment. For example, if you're looking for
something grand and impressive, a listed
building
such as
County Buildings
might
work; for a
modern/contemporary/rustic
feel,
(Heaton House Farm or Hanbury
Wedding Barn)
might be perfect; or if you love the outdoors,
many of our
venues are
approved to hold outdoor ceremonies, such as
(Trentham Gardens)
or
(Blithfield
Lakeside Barns)
.
5. How much do you want to spend?
Budget will play a big part in choosing your
venue – it's easy to get carried away as you're looking round, so start out with an
idea of how much you can afford before you go. Many have special offers for less
popular dates.
6. Catering to your taste.
Do you have a preference for a certain type of cuisine? You
might prefer the convenience of in-house catering, or maybe want to bring in
something more unique. And some venues offer a 'no corkage' option, which can
greatly affect the cost of the wine you provide.
7. Think about suppliers.
If you have certain suppliers you'd like to use – like your
photographer, a live band or other entertainment – you may need to check it out with
the venue – some will insist you use their recommended suppliers.
8. Wedding planners.
Some venues provide
an in-house wedding coordinator to help
you on
your journey with them at no extra cost
– which can prove invaluable in
getting everything organised.
If you require a more personalised service, you can
book your own wedding planner which will support you from the beginning to your
wedding day.
9. Availability.
It might seem obvious, but one of the first things to ask is whether they
have availability for your ideal date.
Popular suppliers can be booked 2 years in
advance.
10. Get the vibe.
Finally, after you've considered all the practical questions, make sure
the venue 'feels' right for the both of you. If it does,
book it.
We have a long list of
approved venues,
a few local registration offices and county
buildings, which includes something for everyone – to search for ones that might be ideal,
just use our advanced search tool which allows you to put in capacity, type, style and
location to bring up the best options for you.